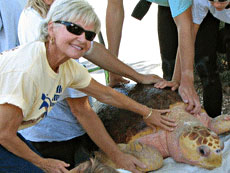 Turtle Time, Inc. is a not-for-profit organization dedicated to the recovery and conservation of marine turtles.
Established in 1989, the group is the Florida state-permitted monitoring organization for sea turtle activity from Fort Myers Beach to the Lee-Collier County line. Daily patrols during the nesting season are conducted to gather important scientific data about population estimates, distribution of nests, nesting patterns and hatching success rates. Sick and injured sea turtles are transported to special rehabilitation facilities and information on deceased sea turtles is submitted to the national Sea Turtle Stranding and Salvage Network.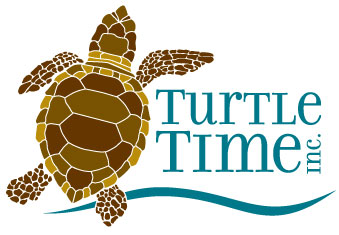 Turtle Time Volunteers
Turtle Time volunteers have made a huge impact in helping to protect sea turtles. On the evening of May 29, Cindy, Steve, Jennifer and I rescued an extremely lethargic loggerhead sea turtle that had washed ashore on Fort Myers Beach. Steve and Cindy transported her to CROW where it was determined that the turtle suffered from K.Brevis toxicosis (in English, red tide poisoning). Our turtle responded well to the therapy and on June 12, we cheered as this elusive, magnificent marine turtle rushed home to the Gulf. Turtle Time thanks everyone, including our volunteers and officers from Lee County Sheriff's Office, for making it a very happy 'homecoming celebration'.