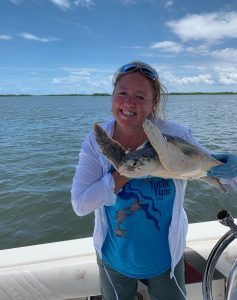 Fort Myer Beach, Fla. (June 6, 2019) – A Kemp's ridley sea turtle, one of the smallest and most critically endangered of all sea turtles, was released from the Clinic for the Rehabilitation of Wildlife (CROW) after accidentally ingesting a fishing hook.
The turtle was accidentally hooked by a fisherman on the Fort Myers Beach pier on Tuesday, June 4. Volunteers for Turtle Time, Inc. came to the aid of the turtle and transported it to CROW so that the hook could be removed. Veterinarians at the wildlife hospital anesthetized the turtle and were able to safely remove the hook by making a small incision in the neck. Using bolt cutters, they clipped the hook and removed the rest of the line through the mouth. The incision was closed and the turtle was tagged with flipper tags and a microchip.
After recovering from anesthesia and a brief period for observation the turtle was cleared for release. It was taken to the back bay waters of Fort Myers Beach via a boat provided by Turtle Time, Inc. volunteers. The turtle was released into the water near Mound Key.
If you accidentally hook a sea turtle, do not cut the line and release the turtle. Reel it in slowly and immediately contact the Florida Fish and Wildlife Conservation Commission (FWC) at (888) 404-FWCC (3922) or Turtle Time, Inc. (239) 481-5566.