Sea Turtle Poster Available
Featuring Alan Maltz Image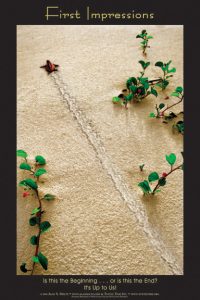 Just in time for loggerhead sea turtle hatching season, our poster is available from Turtle Time, Inc. to help save sea turtles. The poster is titled "First Impressions" and features an image of a loggerhead hatchling crawling across the sand by renowned fine art photographer Alan S. Maltz. Sea turtle nesting and hatching season runs from May 1 to Oct. 31.
The poster was created as a new approach to educating the public about the plight of endangered and threatened marine turtles. The goal was to use art as a medium for environmental education and awareness. The project was made possible by a grant from West Coast Inland Navigation District and artistic and professional contributions from Alan S. Maltz.
"Most posters are displayed for awhile and then thrown away," says Eve Haverfield, Founder and Director of Turtle Time, Inc. "We created this poster to be revered as a work of art. We envision it will be collected and saved and sustain a long-term impact."  Haverfield will distribute the posters to interested Lee County businesses, visitors and residents. If you would like to receive a poster, contact Turtle Time at (239) 481-5566 or eve@turtletime.org. Donations are welcomed and can be sent to: P.O. Box 2621, Fort Myers Beach, Florida 33932. A limited number of posters are available.
Turtle Time, Inc. is a not-for-profit organization dedicated to the recovery and continued survival of marine turtles. Established in 1989, the group is the Florida state-permitted monitoring organization for sea turtle activity from Fort Myers Beach to the Lee-Collier County line. Daily patrols during the nesting season are conducted to gather important scientific data about population estimates, distribution of nests, nesting patterns and hatching success rates.
Alan S. Maltz is the Official Fine Art Photographer for Florida named by VISIT FLORIDA and the Official Wildlife Photographer of Florida named by the Wildlife Foundation of Florida. His work graces private, public and corporate collections throughout the world, including the Carter Center and Presidential Library in Atlanta; American Airlines Arena and Carnival Cruise Lines in Miami; Southwest Florida International Airport in Ft. Myers, Fla.; and Canson in Caen, France.
Maltz is the author and publisher of several award-winning art books, including "Key West Color" and "Miami City of Dreams." His latest book, "Florida … Beyond the Blue Horizon," was selected as the Official Coffee Table Book of Super Bowl XLI and received numerous awards such as Best Florida Book for Adults and Best Interior Design by the Florida Publishers Association. His fifth book, "Visions of Beauty: The Beaches of Fort Myers and Sanibel"  was published in the fall of 2009.